SOURCE: Slate
6-17-14
Interactive Time-Lapse Map Shows How the U.S. Took More Than 1.5 Billion Acres From Native Americans
Roundup
tags:
Native Americans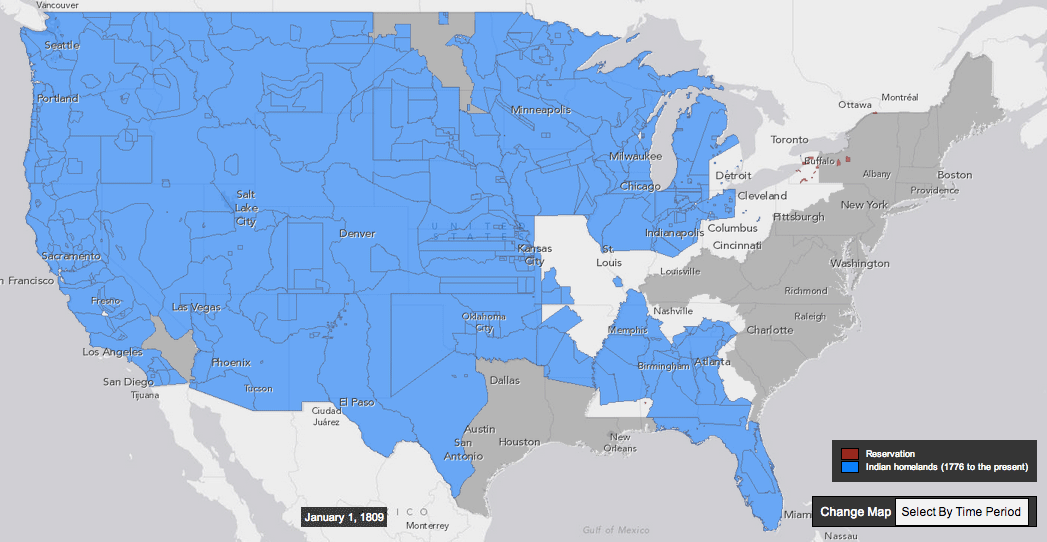 Invasion of America
This interactive map, produced by University of Georgia historian Claudio Saunt to accompany his new book West of the Revolution: An Uncommon History of 1776, offers a time-lapse vision of the transfer of Indian land between 1776 and 1887. As blue "Indian homelands" disappear, small red areas appear, indicating the establishment of reservations. (Above is a GIF of the map's time-lapse display; visit the map's pageto play with its features.)
The project's source data is a set of maps produced in 1899 by the Bureau of American Ethnology. The B.A.E. was a research unit of the Smithsonian that published and collected anthropological, archaeological, and linguistic research on the culture of North American Indians, as the nineteenth century drew to a close.
While the time-lapse function is the most visually impressive aspect of this interactive, the "source map" option (available on the map's site) offers a deep level of detail. By selecting a source map, and then zooming in to the state you've selected, you can see details of the map used to generate that section of the interactive. A pop-up box tells you which Native nation was resident on the land, and the date of the treaty or executive order that transferred the area to the government, as well as offering external links to descriptions of the treaty and of the tract of land...
Read entire article at Slate
---
comments powered by

Disqus