Blogs > Cliopatria > Sorry
Feb 13, 2008 7:28 am

Sorry
[Cross-posted at
Airminded
.]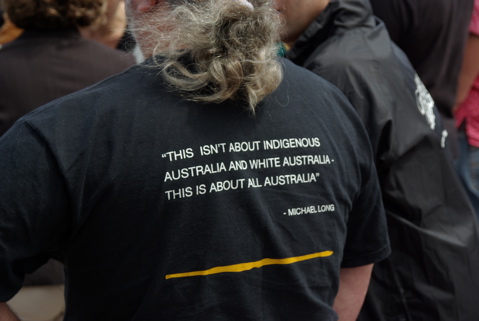 The Honourable Kevin Rudd, MP, Prime Minister of Australia, apologises to the
Stolen Generations
, House of Representatives, Canberra, 13 February 2008:
Therefore, for our nation, the course of action is clear, and therefore, for our people, the course of action is clear: that is, to deal now with what has become one of the darkest chapters in Australia's history. In doing so, we are doing more than contending with the facts, the evidence and the often rancorous public debate. In doing so, we are also wrestling with our own soul. This is not, as some would argue, a black-armband view of history; it is just the truth: the cold, confronting, uncomfortable truth -- facing it, dealing with it, moving on from it. Until we fully confront that truth, there will always be a shadow hanging over us and our future as a fully united and fully reconciled people. It is time to reconcile. It is time to recognise the injustices of the past. It is time to say sorry. It is time to move forward together.

To the stolen generations, I say the following: as Prime Minister of Australia, I am sorry. On behalf of the government of Australia, I am sorry. On behalf of the parliament of Australia, I am sorry. I offer you this apology without qualification. We apologise for the hurt, the pain and suffering that we, the parliament, have caused you by the laws that previous parliaments have enacted. We apologise for the indignity, the degradation and the humiliation these laws embodied. We offer this apology to the mothers, the fathers, the brothers, the sisters, the families and the communities whose lives were ripped apart by the actions of successive governments under successive parliaments. In making this apology, I would also like to speak personally to the members of the stolen generations and their families: to those here today, so many of you; to those listening across the nation—from Yuendumu, in the central west of the Northern Territory, to Yabara, in North Queensland, and to Pitjantjatjara in South Australia.

I know that, in offering this apology on behalf of the government and the parliament, there is nothing I can say today that can take away the pain you have suffered personally. Whatever words I speak today, I cannot undo that. Words alone are not that powerful; grief is a very personal thing. I ask those non-Indigenous Australians listening today who may not fully understand why what we are doing is so important to imagine for a moment that this had happened to you. I say to honourable members here present: imagine if this had happened to us. Imagine the crippling effect. Imagine how hard it would be to forgive. My proposal is this: if the apology we extend today is accepted in the spirit of reconciliation in which it is offered, we can today resolve together that there be a new beginning for Australia. And it is to such a new beginning that I believe the nation is now calling us.
Sometimes, history doesn't need to be sought out. Sometimes it comes to you.
Sources:
Parliament of Australia
(text),
trimba
(image).
---
---
comments powered by

Disqus
---
More Comments:
---
Old Sarg - 4/15/2008
An apology that is not followed by a change in how one acts is of no meaning. Nothing changed, life goes on and another politician has made someone with a simple mind happy again.