Blogs > HNN > SWITZERLAND, IRAN'S NEXT BEST FRIEND?
Jun 8, 2007 4:01 pm

SWITZERLAND, IRAN'S NEXT BEST FRIEND?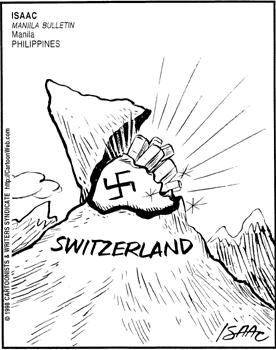 The country which used the post Holocaust chaos to hold on to the bank accounts of its victims found an interesting self serving way of"enticing Iran to rejoin the international community." It offered to hold a conference in which"various perceptions of the Holocaust" would be examined. Maybe that was the way her morally challenged president wished to prove that the Swiss were not the back stabbing Nazi collaborators we know them to have been. For how could they have taken advantage of Holocaust survivors if there"really" was no holocaust? In other words, unlike Angela Merkel, Micheline Calmy-Rey is interested in the guilt expunging fig leaf Ahmadinejad is offering to the losers of W.W.II. Ynet reports:
The proposal was made via confidential memorandum from Switzerland's President, Micheline Calmy-Rey, to Iranian deputy foreign minister Saaid Jalili, during his visit in Switzerland last December.

The Swiss foreign ministry objected to the idea, annulling it. Calmy-Rey's proposal, which would have voiced anew the Iranian doubts over the very existence of the Holocaust, outraged many Jewish organizations, which demanded she apologize.

Calmy-Rey was subject to her own party's criticism as well, as her accusers said that should her proposal be realized she would have compromised Switzerland's international diplomatic status.

Western diplomats described the proposal as a" clumsy, dangerous idea, intended to help Iran out of its seclusion." The Weltwoche magazine, which broke the story, called the idea"a stupid, naïve notion" saying the Iranians would have clearly used the conference for their own agenda.
Interestingly, this story is published along with the following headlines:
Switzerland confirms secret Iran talks
Bern City says no to Islamic Cultural Centre
---
---
comments powered by

Disqus